You can download a .pdf copy of the Chocolate Zucchini Recipe by clicking on either the photo or the link below: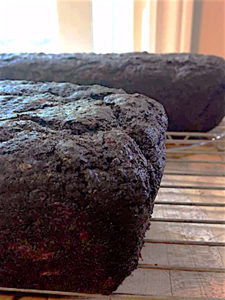 Chocolate Zucchini Brownies
Dry Ingredients:
2 cups all-purpose flour (I use 1 cup whole wheat and 1 cup of soft white flour)

½ cup cocoa powder (I use Cacao Barry Extra Brute, it has a deep rich chocolate flavour)

1 ½ teaspoon baking soda

1 teaspoon salt (or less)
Mix these ingredients together in a bowl
Wet Ingredients:
½ cup vegetable oil (I use either peanut oil or rice oil or a mix of the two)

1 ½ cups sugar

2 teaspoons vanilla extract

2 cups shredded zucchini (peeled and seeds/pith removed)

3-5 teaspoons water (I will use Kahlua, Grand Marnier or Frangelico)

½ cup chopped walnuts or other nuts – completely optional
Using an electric mixer fitted with the paddle attachment, mix the oil, sugar and the vanilla until they are well mixed.
Add the dry ingredients and mix well. Fold in the zucchini. Add walnuts (or other nuts)
If the mixture feels a little dry or powdery, add the water (or liqueur) one tablespoon at a time until the mixture loosens up – the mixture will be very, very thick and will need to be spread into pan (not poured).
Bake in 350 degree oven, in a greased and lined (with parchment paper) 9 x 13 inch baking pan or in two small loaf pans for 60 – 70 minutes – until a toothpick comes out clean.
This brownie can be eaten as is, with fruit and ice cream, or topped with your favourite frosting.