The Clarity Alchemy Three Month VIP Program
.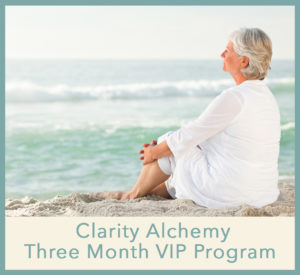 This is the full program, designed for those of you who know that you want to make some major transformations in your life, but you don't know what you want your life to look like, or where to even begin making changes. There is a sense of overwhelm mixed with frustration and anxiety taking over your life. Even though you don't know what you want your life to look like and be like, but you are absolutely positive you no longer want to live the way you have been living.
The other little bit fear inducing challenge that you are likely to be facing is that you still have major expenses to cover that you are solely responsible for – a mortgage, living expenses, maybe some financial support for a child. So as much as you would love to make some major transformations in your life, you are very aware that you have a lifestyle that you are solely responsible for supporting.
And this is where the Clarity Alchemy VIP Program comes in.
The Clarity Alchemy VIP Program is based on my Amazon Bestseller – Clarity Alchemy: When Success is Your Only Option. 
The Clarity Alchemy VIP Program, along with my coaching/mentoring support, starts you off at the very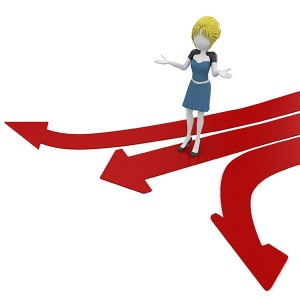 beginning of this lifestyle transformation process by helping you find your personal Clarity – what excites you, what your preferences are, how you would love your life to look like, feel like, and be like.
Once you have personal Clarity, then you begin to connect with and develop your intuition. Using your intuition helps you maintain alignment with your authentic self – with the personal clarity that you have just connected with. Your clarity plus your intuition are then developed to help you design your ideal good life – how do you want your Personal Core Values showing up in your life? What impact will your Personal Success Inventory have on the decisions and the lifestyle design you create? What does your balanced life look like? This is all done through worksheets, journaling, and various exercises that allows you to explore options and make alterations before making any physical changes.
The final step in this program begins when you feel excited about the transformations you are planning on making. This is when the tools and techniques and the magic of the Law of Attraction/Deliberate Creation come in to start transforming your dreams and goals into reality.
The Clarity Alchemy Three Month VIP Program includes the following:
1) Twelve 50-minute one-on-one Coaching/Mentoring Sessions. I am a Certified Law of Attraction Coach with several years of experience helping people manifest using Law of Attraction tools and techniques. These calls can be recorded if you would like.
2) Four Tarot Readings. As a Certified Professional Intuitive and a Professional Tarot Reader, I am always amazed as how accurate and revealing Tarot Readings can be, and how extraordinary helpful Tarot Readings are at uncovering hidden issues that are blocking your progress – limiting beliefs that you had forgotten about; fears that are so much a part of you they become invisible but still very restrictive…
3) Three Distance Reiki Sessions. Reiki is an healing energy modality that can "heal" anything that is made of energy – and science is confirming that pretty much everything we come into contact with, including ourselves, are made of energy. As a Reiki Master, I have learned how effective Reiki us at removing blocks, at amping up opportunities and synchronicities, at boosting intuition, at helping with clarity and focus…
4) Three months of continuous Reiki Energy Flow. Your information and issues will be added to
my Reiki Box where you will receive three months of Reiki energy flow working gently but consistently to help remove blocks and obstacles and open you up to opportunities and synchronicities.
5) Three months of email coaching. This additional support is available to when you need it, via email for the full three months of this program. You don't need to 'save up' your questions or spend time feeling stuck between calls. My advice, my support, my coaching is just an email away
6) There will be one or two special surprises that I have planned for you, to help support your transformations and celebrate your successes. 
If you have any questions about this program, or would like more information or clarity on what is involved with this program, please feel to email me at anne@annebolender.com
The Clarity Alchemy Three Month VIP Program – $3,000