The Tarot/Reiki Special
.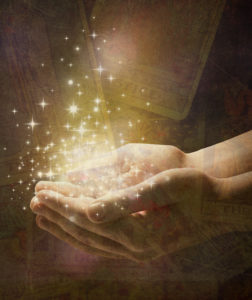 Numerologists are indicating that 2017 holds a fantastic energy for new beginnings, new adventures, new opportunities. A fantastic year to make those lifestyle changes that you have been dreaming about – learn how to paint or play the piano; start or expand a business; move to a new city or country; take a sabbatical from work to travel for a few months; start a family; go back to school…
And this is amazing – if you know what life changes you want to make this year!!
But I know from experience, that when you don't know where your true passions lie or what your life purpose is, it can be very challenging to connect with this kind of Universal energy and gain its support while you make your way through the whole change process. In fact, it can be a lot like trying to sail straight into gale force winds!!
What I have done is to combine my skills as an Intuitive Tarot Reader with my Reiki Master skills to provide a unique program that will help anyone uncover what their true life purpose is and gain clarity around what they should be focusing on right now.
So the Tarot part of this program is a 6 card "What Is My Life Purpose?" Tarot Reading in which your life purpose is explored along with what obstacles or blocks might be standing in your way, preventing you from identifying your life purpose, or from taking that first step towards creating a life that is on purpose!!  
Once the Tarot Reading is complete, I then use Reiki to first send you 30 minutes of distance Reiki Healing Energy focused at dissolving any blocks or obstacles that the Tarot Reading identified (plus any others that might be hanging around preventing you from moving forward) and then your photo gets added to my Reiki Box where you will receive at least 30 days of continually flowing Reiki Energy to you to help remove the blocks or obstacles that are challenging your progress. 
.
What is a Reiki Box?
A Reiki Box is a tool used by some Reiki Practitioners to flow Reiki energy to themselves or their
clients on a continuous basis. As a Reiki Master, I attuned my Reiki Box to Reiki energy so the flow of Reiki energy to the box and it's contents would be constant. The Reiki Box also has the Reiki power symbols drawn on the inside of the box and a clear quartz crystal that has also been attuned to Reiki energy inside the box, just to make sure the Reiki energy is at full strength.
Images of my clients with their specific focus for the Reiki energy written on the back of these photos, are put into the Reiki Box and enjoy the constant flow of distance Reiki energy working on removing their blocks for as long as their image remains in Reiki Box.
I then flow Reiki energy to the Reiki Box several times a day to maintain a constant flow of Reiki energy through the Reiki Box to my clients.
So this Tarot/Reiki program consists of:
a Tarot Reading to identify your life purpose and the major challenge or block that is standing between you and your manifesting your life purpose;

a 30 minute distance Reiki Healing session; and

one full month of constant Reiki energy through my Reiki Box, to help remove the challenges and blocks identified in the Tarot reading (plus whatever other challenges and blocks that the Reiki energy picks up on!).
This Tarot/Reiki combination is available until March 31st, 2017 for the price of $50.00.
To order your Tarot/Reiki combination, simply click on the PayPal "Buy Now" button below:
Once I receive notification of your order I will email you with further instructions on what information I need from you. You should receive your Tarot Reading within 72 hours (depending on demand) and notification that the Reiki energy has begun to flow.
If you have any questions, or would like additional information, please feel free to email me at anne@annebolender.com