It's that time of the year when we begin exploring what next year has in store for us. I don't know about you, but I enjoy checking out my horoscope to see what the Astrological Stars and Planets are predicting.
Last year I discovered that Tarot can also do some fairly accurate predictions on what the coming year, 2022, has to offer.
So let's have a look at what Tarot has to say about what to expect during 2022.
Overall, according to Tarot Numerology, 2022 is a "6" year (2+0+2+2=6), and in the Major Arcana, the 6 card is the Lovers.
Based on this Tarot Numerology, 2022 will be the year of the Lovers!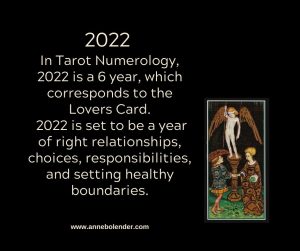 The Lovers' card relates to establishing partnerships and relationships, preferably right relationships. But along with these right relationships, come personal choice and our responsibilities regarding these choices and relationships. There is also a reminder in this card to set appropriate boundaries around your relationships. Ones that protect you, your time, and your well-being
There is also a shadow side, or reverse side to the Lover's card. These are lessons to be learnt, challenges to be overcome, during 2022.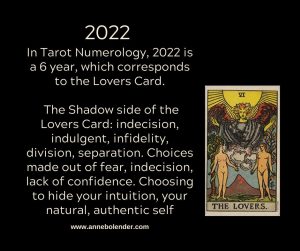 The shadow side of the Lovers Card involves getting stalled through indecision, becoming overly indulgent, creating division or separation within relationships. This is a year where, if we find ourselves falling into any of these behaviours  we should be aware of the pull that this Lover's shadow side is having on us.
Another shadow side aspect of the Lover's Card to watch out for during 2022 will be a tendency to hide both our intuition and our authentic self from others, and from ourselves. Whenever we find ourselves rejecting or struggling with our intuition and our authentic self, we should take note and make a special effort to actually follow our intuition and our authentic self. These times will likely be the shadow side of the Lover's energy showing up in our lives.
The 2022 Tarotscopes: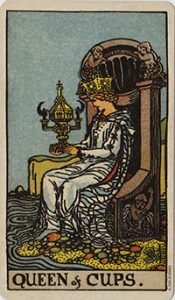 Capricorn (December 22 – January 19) The Queen of Cups: Your creativity and intuition will be making their presences felt in your life this year. You find your self being adaptable, willing to go with the flow as long as that flow feels good to you, and brings you the happiness and creativity you desire. What secrets do you have that you are not willing to share – at least not yet? What boundaries have you created to protect these secrets?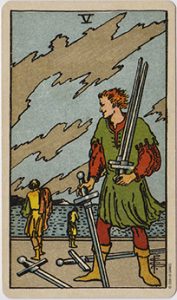 Aquarius (January 20 – February 18) 5 of Swords: This year will be a year of conflicts for you. Some conflicts you will be the one feeling defeated by, others you will be the one who is victorious. Either way there are lessons to be learned from the conflicts. Thoughts, plans, and strategies that can be created or modified as the result of these conflicts. How will your strategies and plans be changed this year by the challenges you will face? What do you need to do for yourself in order to take advantage of these lessons?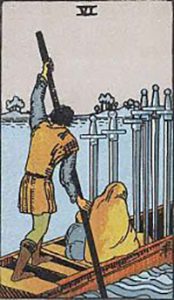 Pisces (February 19 – March 20) 6 of Swords: You've come through many challenges and conflicts these past few years, you've learned your lessons from them, and now you are ready to move on, but you are not quite clear on how to do that, or where you are headed. Finding a guide or mentor, someone you trust, will help you move in directions, and to destinations you have not yet thought of. Who can help you move forward this year. What is the right relationship you can develop with them this year?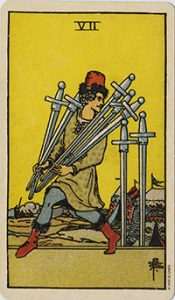 Aries (March 21 – April 19) 7 of Swords: Set intentions for the year that are true and right for you, then take what you need to fulfill these intentions, but leave what you don't need. Be strategic, not deceptive or manipulative. Don't be afraid to ask for what you want, but in a way that connects with others so that they want to help you. What do you need to ask for, and who do you know that can help you?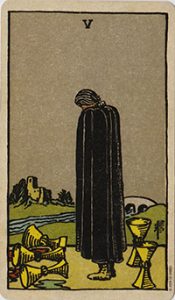 Taurus (April 20 – May 20) 5 of Cups: The year starts off with feelings grief, sadness, hurt, regret, perhaps based on a recent loss or something or someone that was meaningful to you. You're feeling a strong urge to turn your back on the cause of this grief, and walk away. But these feelings don't last for long as change and movement are right in front of you. Allow yourself to follow the flow and you will soon find yourself moving on with your life, towards more happiness and prosperity. What recent loss do I need to grieve and then let go of?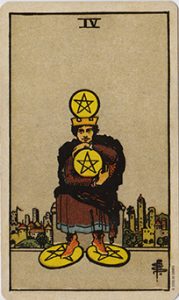 Gemini (May 21 – June 20) 4 of Pentacles: You are surrounded by abundance, by prosperity and material possessions, and yet there is still a feeling of not being as secure and comfortable as you would like. Concerns around money and material possessions will be on you mind a lot this year, to the extent that this focus might keep you isolated from the life you are looking for. What worries can you let go of this year? What fears around your comfort and your material security can you release this year?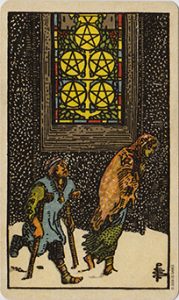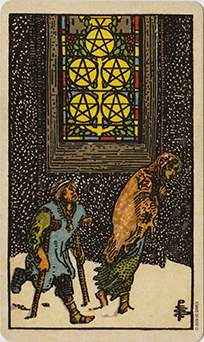 Cancer (June 21 – July 22) 5 of Pentacles: You've been feeling a lot of lack and financial difficulties recently. Feeling like you have been left out in the cold, left to make your way on your own. Things will start to improve this year. New doors, new opportunities will begin to open up for you, which will shine a light on how you can move beyond your current experiences of limitations and lack. How can I transform these feelings of lack and victimhood, into ones of self-trust and belief in myself?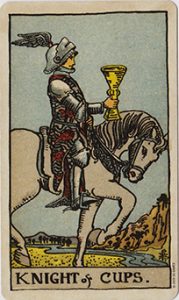 Leo (July 23 – August 22) Knight of Cups: You are off on adventures this year, following your heart, your intuition, and your creativity. You are looking for experiences this year, something out of the ordinary, something to really excite and inspire you. What creative adventures should you explore this year?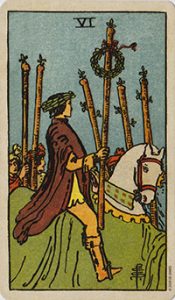 Virgo (August 23 – September 22): 6 of Wands: This is a year of success, victory, and the enthusiastic support of others. You've been through some rough times over the past little while, something that really challenged you, not just once, but something that you had to overcome a couple of times. You've done it! And your being seen for having done it! So enjoy your victory, and the accolades that surround your accomplishments, before you move on to bigger challenges. What recent accomplishment are you particularly proud of, and how will you be building on that accomplishment this year?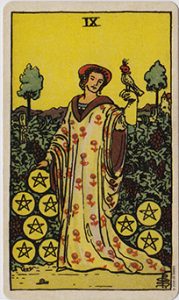 Libra (September 23 – October 22) 9 of Pentacles: The challenges you've overcome in the past, the efforts you've made, the sacrifices you've experienced, the goals you've achieved, they were all worth it, because now, this year, you get to enjoy the bounty and abundance all these efforts have produced. Take some time to recognize, acknowledge, and enjoy all that you have achieved in your life, so far. Your next adventure will begin soon. What other limitations can I break free from? How can I expand my ability to create and even more abundant life?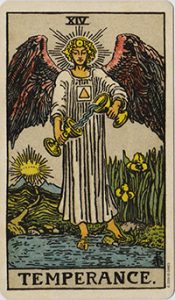 Scorpio (October 23 – November 21) Temperance: You are at a crossroads in your life. You've left a lot of your old life behind. You've shed a lot of what wasn't working, released some old limiting beliefs, made way for the new you to take root and grow. This is a transitional year. A blending of what remains of the old you, with what you are manifesting into your life as the new you. Being a conscious, active participant in this process will help you create a magical, fluid, harmonious transformation in your life. What do I still need to transform in my life? Where and I feeling the strongest urge to change?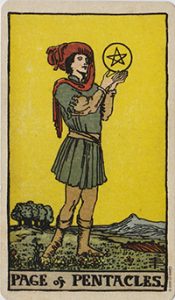 Sagittarius (November 22 – December 21) Page of Pentacles: Your love of learning is coming through loud and clear this year. This is a great year for you to develop new skills, to go after new opportunities, to make grand plans, and then to learn everything you need in order to for you to achieve everything you've set your mind to achieve. What new skills or abilities have you wanted to develop? What long-term plans have you created for yourself, and what skills and abilities do you need to learn or expand in order to achieve these long-term goals?
As you focus on what your 2022 goals and intentions will be, remember to add some awareness around creating right relationships, taking responsibility for the choices you make, setting strong boundaries for yourself, and watching out for the shadow aspects of the Lover's card which will be lurking in the background throughout the year.
If you have liked what you read or saw here, you can receive more of this kind of information by subscribing to The Monday Morning Magic Newsletter.
Every Monday, you will receive a Pep Talk to help motivate you for the week, plus inspiration, information, tips, tricks, techniques, and discounts, that will help you create the lifestyle you crave!
Plus, as a special Thank You! for subscribing, you will receive a copy of my pdf e-book, "Questions You Can Ask Yourself That Will Help You Gain Clarity In Your Life or Your Business"