The Choose to Thrive Program
.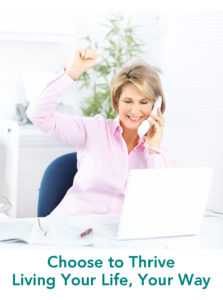 The Choose to Thrive Program is an eight week, one-on-one coaching/mentoring program that focuses on you and the lifestyle change or transformation you are wanting to make.
For the most part, our thoughts are the most difficult part of any change or transformation that we try to make. Our brain is designed to help us maintain the status quo, to remain in our comfort zone, and to not take any risks. This is great if we want to remain safe and are really happy with the life we created. However, it's not so great if we want to make significant changes in our lives.
Have you ever tried to lose weight? I achieved a major weight loss a few years ago. Everything was moving along really well, the weight was coming off. I was exercising every day. My mind was working hard to support this goal, so making healthy choices was east and almost effortless.
And then they weren't.
My life changed. A new job distracted me from my weight loss/get healthy goal, and the old thoughts, eating habits, and lack of exercise returned, and I did not know how to get the healthy thoughts back again.
Since then, I've learned three very powerful, very effective techniques that help you successfully change your thoughts, and change your life. 
Each one of these techniques can be very effective at helping you choose the thoughts, or feelings, or actions you want to have in order to create the lifestyle you crave. Together these three techniques work like magic.
Plus, the Choose to Thrive program not only takes you through these techniques, helping you apply them to your own situation, but will also teach you how to use these techniques in the future so you can self-coach your way through other  changes and transformations if you choose to.
What the Choose to Thrive program includes is:
1) Eight weekly one-on-one coaching calls focused specifically on you and on providing you with the support, the mentoring, and the coaching you need to make a major transformation as successful as possible. Each call lasts 45 minutes and can be held either over the phone, or over the Internet through Zoom.
2) Eight weeks of unlimited emails. All emails are answered during regularly scheduled office hours (Monday through Friday, between 9am and 5pm eastern time zone). Email coaching provides effective just-in-time support for you regardless of where you are, or how much privacy you have.
3) A private Facebook Group where you can meet and be supported by others who are also using these techniques to manifest major transformations in their lives.
4) A Tarot Reading or two, to help identify obstacles that might be hidden from view, to identify possible actions that can be taken, etc. As a Certified Professional Intuitive, I love doing Tarot Readings and find they provide fresh insight and guidance that helps us maintain focus and continue along the best path for the transformation or change you are looking for.
5) An e-book, also titled Choose to Thrive, describing the three techniques is provided to help you understand what these techniques are all about, and how to use them in the future as self-coaching tools to help you make further improvements, changes, and transformations in your life.
.
The cost of this powerful eight week Choose to Thrive Program is $1497.
.
To purchase and schedule your Choose to Thrive Program, simply click on the button below!
.
If you have liked what you read or saw here, you can receive more of this kind of information by subscribing to The Monday Morning Magic Newsletter.
Every Monday, you will receive inspiration, information, tips, tricks, techniques, and discounts, that will help you create the lifestyle you crave!
Plus, as a special Thank You! for subscribing, you will receive a copy of my pdf e-book, "Questions You Can Ask Yourself That Will Help You Gain Clarity In Your Life or Your Business"