No mat­ter how hard you try to ignore your nat­ural life.….to ignore the things you dream of doing, to ignore the lifestyle that should come eas­ily and nat­u­rally to you, to ignore the gifts you have to share with the world.…. the more your nat­ural life will shine through in small, some­times frus­trat­ing, but always bril­liant and illu­mi­nat­ing ways.
Your nat­ural life will shine through in the day­dreams you lux­u­ri­ate in, in the hob­bies you choose to spend time on, in the books you love to read, or in the movies you love to watch.
Your nat­ural life will also shine through in the career path that you have cho­sen to fol­low, whether it is the full-on, flat-out, this-is-what-you-were-meant-to-do lifestyle career full of adven­tures and risk, or the frustrating-almost-but-not-quite-what-you-were-meant-to-do safe and com­fort­able career. Steven Press­field, in his bril­liant book Turn­ing Pro, Tap Your Inner Power and Cre­ate Your LIfe's Work, refers to the safe, com­fort­able careers as shadow careers:
Some­times, when we're ter­ri­fied of embrac­ing our true call­ing, we'll pur­sue a shadow call­ing instead. That shadow call­ing is a metaphor for our real career. Its shape is sim­i­lar, its con­tours feel tan­ta­liz­ingly the same. But a shadow career entails no real risk. If we fail at a shadow career, the con­se­quences are mean­ing­less to us… If you are dis­sat­is­fied with your cur­rent life, ask your self what your cur­rent life is a metaphor for.

That metaphor will point you toward your true calling.

Steven Press­field, Turn­ing Pro, page 13
Shadow careers give us the oppor­tu­nity to not have to face our fears, or our self-doubt, or our shame. They give us a safe place to live in — but safe and com­fort­able aren't always the best places to be. Some­times, safe and com­fort­able are loaded with frus­tra­tion or bore­dom or depres­sion or know­ing that there is some­thing else out there for us. Some­thing bet­ter, if only.…..
Resis­tance is always the afterthought.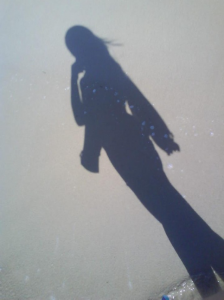 Our day­dreams pro­vide us with the orig­i­nal thoughts of who we could be and what our life could be like. We spend time lost in visu­al­iz­ing who we might become. The ideas, the dreams, the visu­al­iza­tions come first. Then resis­tance creeps in. The always present after­thought. Our lizard voice or grem­lin voice remind­ing us to be afraid, to resist, to doubt our­selves, to sab­o­tage our­selves. So we remain ama­teurs in our own lives, hid­ing in the shadows.
To step out of the shad­ows and into our nat­ural life we must find a way to acknowl­edge resis­tance, to under­stand our fears, to feel safe in fac­ing our self-doubts, and to become self-supporting instead of self-sabotaging.
So.…are you an ama­teur in your own life, liv­ing in a shadow career weighed down by resis­tance and fear? Or have you learned how to become a pro­fes­sional in your own life — to ben­e­fit from the lessons and gifts that resis­tance and fear have to offer so that you can fol­low your true, nat­ural path?
If you have liked what you read or saw here, you can receive more of this kind of information by subscribing to The Monday Morning Magic Newsletter.
Every Monday, you will receive inspiration, information, tips, tricks, techniques, and discounts, that will help you create the lifestyle you crave!
Plus, as a special Thank You! for subscribing, you will receive a copy of my pdf workbook, "27 Questions You Can Ask Yourself To Help You Gain Clarity In Your Life or Your Business"