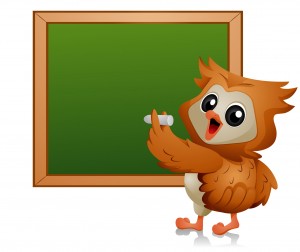 Written by: Anne Bolender
For many people, January 1st is the beginning of their new year. It's a time for making resolutions, starting fresh and making changes – giving up smoking, losing those stubborn 10 pounds, get a new job.
For me, September 1st is the beginning of my new year, a new annual cycle, far more so than January 1st is or ever will be!
September is my Tabula Rasa – my opportunity for a fresh start, a clean slate.
September signals a physical, tangible time of change. A time when students of all ages head back to school to start a new school year, and parents re-evaluate their responsibilities and their lives as their days open up and their nests become empty.
September brings back memories of freshly sharpened pencils (I can still smell wood and graphite as they were being shaved off the pencils every time I think of September and autumn), blank note books, new shoes and first-day-at-school anxiety mixed with seeing-old-friends-again excitement. There is something about this fresh start and potent mix of anxiety/excitement that still lives within me after all these years.
Although I am no longer a part of the going-back-to-school rituals, for me September's significance is now defined by the way it signals the end on the lazy days of heat and humidity that is summer into the brisk, colourful, awesome days of autumn – my favorite time of the year. This is my time to set and write down my big intentions, identify my goals and milestones for the coming year, and get excited about things to come. My filled notebooks and pencil stubs from this past year are replaced by fresh blank notebooks with uncracked spines and brand new sharply pointed pencils.
What time of the year creates the biggest pull on your soul? That is your Tabula Rasa? Are you a New Year's Resolutioner with your Tabula Rasa coming at the beginning of a new calendar year? Or is there a different time of the year that has greater significance, greater meaning to you?
If you enjoyed reading this then you will love receiv­ing my bi-weekly  Clarity and Creativity Newsletter. Every newslet­ter is loaded with good­ies like: Clar­ity and Cre­ativ­ity posts; tips and tech­niques on how to gain Clar­ity and boost your Cre­ativ­ity; Resources; as well as spe­cial deals on Coach­ing, Pro­grams, and other awe­some stuff!! Sign up is easy , just click on this link:  Clarity and Creativity Newsletter Signup Page  or enter your email address in the signup box at the top right-hand corner of this page. Thank you for visiting 🙂