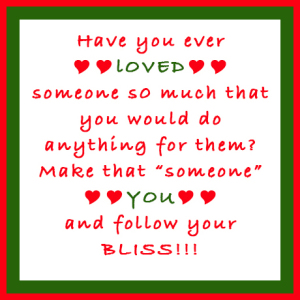 "Tis the season to be jolly, fa la la la la, la la, la la!!
This is also the season to be shopping, cleaning, cooking, baking, entertaining …. and, for a lot of people, working at a full-time job!!!
Sometimes, just sometimes, it's difficult to find the energy to be jolly and joyful along with the rest of it all!!
At this time of the year particularly, we are so busy trying to please those we love that we forget to love ourselves. We forget to treat ourselves with the same loving kindness and generosity that we treat others with.
So while the ones we love are enjoying the amazing holiday that we've organized and created, we end up missing some, if not all the fun because we are too busy or too exhausted to join in.
And this, what you just read, is the very reason that self-love and self-care practices are so important right now.
I have been very fortunate over my life to have known some amazing individuals who thrive as the perfect hostess and absolutely love 'throwing together' an elegant 5-course meal. For these amazing individuals, everything about Christmas excites them and brings them joy. The cooking, the shopping, the baking, the cleaning, the decorating….are all activities of self-love for them!
My mother-in-law, for example, was a stay-at-home diplomat's wife whose full-time job was to be a great hostess…and she was awesome at it!! My in-laws lived in Brussels, Belgium and, for years, regularly entertained diplomats and VIPs from all over the world.
Mabel could whip up a 5-course meal involving the most delicious French cuisine you would ever want to taste – all from scratch and without the aid of a microwave!!! Their flat was always immaculate, and Mabel always looked like she had just stepped right off of the pages of a fashion magazine!!
Needless to say, Christmas with my in-laws was magical. To this day, I do not know how she managed to create those magnificent dinners, and remain joyful and calm the whole time! Mabel seemed to be having fun doing these activities.
Even everyday meals at their place were 3 course delights served on fine bone china with real silver tableware, accompanied by fine French or Italian wines served in crystal wine glasses!
Yeeeaaaaah…….that has never been me!!
I tried to create that kind of holiday experience once or twice, and ended up being way too exhausted and stressed out to enjoy any of it.
I have learned my lessons over the years. First off, never try to compete with the mother-in-law by trying to adopt her Christmas traditions and style. Secondly, stay within the limits of what I am comfortable doing and focus on **doing-to-enjoy** rather than **doing-to-impress**. And, thirdly, amp up the self-love and self-care practices over the holidays so I have the energy I need to enjoy all the things I want to do.
Whenever I forget to amp up the self-love over the holidays, the holidays become a challenge and I end up with no energy left over to set myself up to start the new year right!
But I also get it, taking time out of an already flat-out schedule to spend time doing something just for you can be stressful. Which is why it is really important, particularly at this time of the year, to remember that self-love is not about adding stress to an already stressful time of year.
Self love is about generating personal well-being and vitality, and adding energy and joy to your holidays. It's about not just surviving the holidays, but thriving through the holidays so you have energy to spare to set yourself up to start the New Year off with a bang!!
Self love is amped up self-care. It's about loving yourself enough to follow your bliss, even over the Holidays. And that could mean dancing to some heavy metal beats like no one is watching, or going for a walk through the park, or taking a yoga class, or baking the perfect cheesecake, or taking time to read, or watching "It's a Wonderful Life" or "How the Grinch Stole Christmas" with the family……..
And, yes, the wine and chocolates and spa days are great activities to begin a self-love practice with, especially if wine and chocolates and spa days really do make you feel good. But, if you only end up feeling bloated and miserable and guilty for having indulged, then don't do it, at least don't call it self-love or self-care!
Self love could also be something as simple as monitoring your self talk, that voice inside your head that is constantly chattering away at you. Monitor your self talk so that you only hear kind, loving, supportive words. Stop the self-criticism, the self-doubt, the self-denial. These thoughts can add to the stress of the season and are exhausting to listen to. Replace all negative self talk you hear with positive, supportive, loving, and encouraging chatter.
Self love can also involve delegating chores to others, or saying no to the occasional request, or changing traditions to fit your schedule, your preferences and your abilities.
This is your life, this is your holiday, this is your time – follow your bliss!!
AMPED UP SELF LOVE FOR THE HOLIDAYS
As easy as:
1) monitor your self-talk and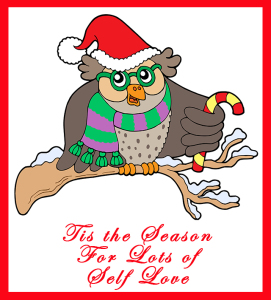 replace anything negative with positive, joyful, supportive self-talk.
2) delegate chores to others. Don't even try to "do it all"!!
3) only do what you are comfortable doing, don't try to recreate someone else's traditions.
4) schedule in some downtime for yourself to relax and recuperate.
5) take the time to enjoy the holidays!!!
So, how will you be amping up your self-love and self-care practices this holiday season?